Lace Color
Notice:
If you order a stock lace wig, you only can choose size-1 or size-2 for the cap size. Actually, you can compare your own measurements with our standard size of size-1 and size-2 to see which one is fit you very well. Of course, if your head size is a little bigger than size-2 or smaller than size-1, we recommend that you can leave this page, go to the new page of our custom wigs! If you can't make sure which one suits you when compare, please contact us freely to ask for help!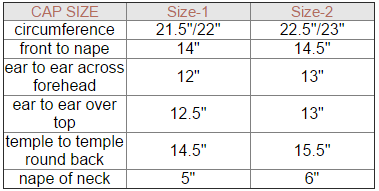 Measure Guide:
You should take your measurements carefully. Before you start, pin hair as flat and tight as possible before taking the measurements. This will eliminate bulges that distort head contours.
1. Circumference: Measure all around the head. Position tape measure so its edge follows the hair line around the head and nape of the neck.
2. Front to Nape: Measure from hairline at center of forehead straight back over crown to center of hairline at nape of neck.
3. Ear to Ear across forehead: At front of ear, measure from hairline at base of sideburn, up across the hair line along forehead to same point in front of other ear.
4. Ear to Ear over top: Measure from hairline directly above the ear across top of head to the hairline directly above the other ear.
5. Temple to Temple round back: From temple to temple across the back of head.
6. Nape of Neck: Measure the width of hairline across the nape of the neck.